Ramco SmartBuild is a pioneering initiative from Ramco Industries Limited which will offer 360o support for dry wall construction.
Ramco SmartBuild provides a single window turnkey solutions for dry construction components. As a turnkey solution provider Ramco SmartBuild will design, supply, manufacture, install and hand over the completed project on time strictly adhering to the specification provided.
Ramco SmartBuild offers solutions, sources alternate materials for dry walls and ceilings. It will primarily focus on selling and use of its own products and applications. Alternatively, Ramco SmartBuild will look at other products in the dry construction category if the specification so warrant. Ramco SmartBuild will take up any dry construction project right from design stage to project delivery and can undertake any process in between.
Ramco SmartBuild also provides training onsite for contractor's personnel so they are equipped to maintain the existing project and also take up newer projects elsewhere.
Ramco SmartBuild is also aiming to bring in MEP (Mechanical, Electrical and Plumbing) into its core initiatives in the near future.
The SmartBuild initiatives are
Design & Material Consultancy
RIL in its endeavour to encourage green dry construction in India offers design and material consultancy services for projects. The company has a team of design professionals who will help you design your projects. We help in concept development and BOQ estimation for the project you have in mind.
Project Execution
RIL executes dry construction component of projects across South Asia. With its rich experience and expertise in construction industry, Ramco can help you build your projects adhering to stringent quality process within the stipulated time and budget.
Site Quality Assurance
RIL understands the need for quality inspection of the construction process as it progresses. Ramco Quality Engineers visit every major projects at regular intervals to inspect the quality of construction and give suggestions and tips to the applicators at the site. They also offer solutions to problems faced at the site due to wrong processes and material selections.
Training in Dry Construction Methods
In house training team will train and help applicators to gain hands-on experience on the emerging construction practices and shall help them deliver quality projects to their customers. Every applicator will be provided a training completion certificate which will enhance their reputation in their area of operation.
PROJECTS
Client: Altair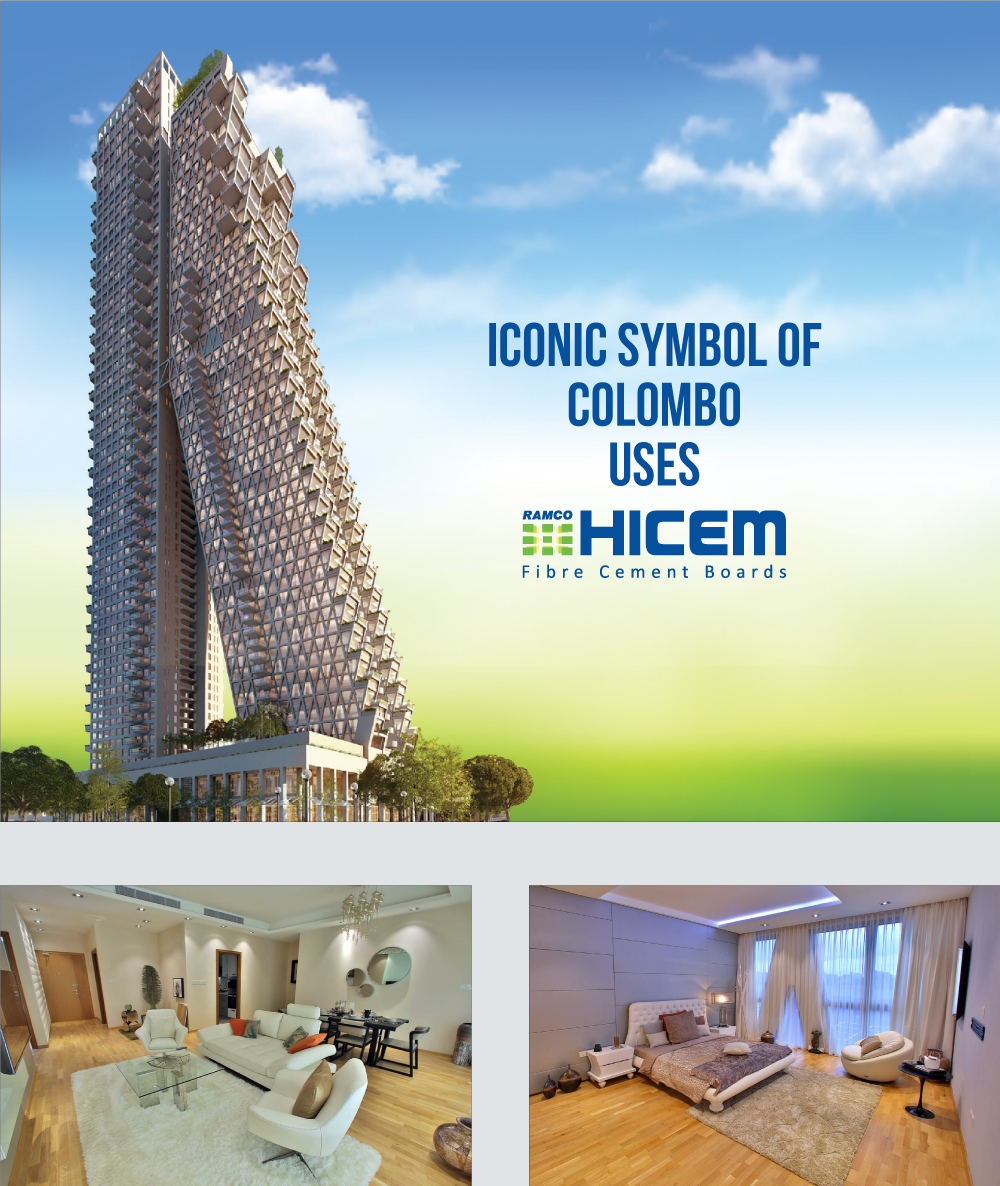 Altair is an iconic upscale residential tower that is coming up at Colombo. Overlooking the beautiful Beira Lake, Altair is an unique twin tower with a vertical and a sloped tower (that rests on the vertical tower) stacked in a 240 meter high grandeur. Altair is set to become Colombo's tallest residential structure and a showpiece to the world of its sustainable and green buildings repertoire. Altair offers high end comforts and amenities that make it one of the sought after address in downtown Colombo.
Requirement
The external wall of Altair is made with reinforced concrete and brick / block. For interiors Altair chose dry construction due to its light weight, termite, water, sound and thermal resistant properties and the easy and fast construction process offered by Ramco SmartBuild.
The client wanted a turnkey solutions provider and Ramco SmartBuild pitched in with their strength to the client and the project contractor Shapoorji Pallonji. Ramco SmartBuild's turnkey solution for dry walls and ceilings encompasses design, manufacture, supply, sourcing alternate materials, installation and handing over of the completed project. The local presence in Sri Lanka gave client the extra confidence to award the contract to Ramco SmartBuild.
Solution
The scope of work at Altair are dry walls from dry to dry area i.e., between two rooms (excluding wash rooms) and dry to wet areas (Tiles over Hicem application) which include toilets and cistern ledge. Other application include lift shafts (fire-rated), access panels and special arrangements for kitchen cabinets.
Impressed by the quality of execution and materials the client extended the contract to include false ceilings as well.
The Altair project is slated to be completed in early 2019.
Client: Occura Eye Hospital

Occura Eyecare Private Limited is a eyecare chain based in Ahmedabad, Gujarat. It is an initiative of Intas Pharmaceuticals. Occura is committed to provide best eye care and has invested in state-of-the-art medical infrastructure to cater to the highest expectations of its patients. It plans to start about 20 eye care centers around Gujarat in the next 4 years.
Requirement
For its Ahmedabad facility Occura had opted for dry construction for all its interiors and was on the lookout for an innovative dry construction material supplier. Patient safety and wellness is the foremost concern at Occura and to this end innovative building materials were required to alleviate the growth of pathogens, safeguard against fire and for reduction in ambient noise levels.
Ramco SmartBuild stepped in with its path-breaking line of products and arranged a demo of its Hilux Board. The client was convinced of its strength and all other amazing properties. Not only that, the client was explained the benefits of dry wall - the speed of construction, ease of construction, its fit and finish and the gain in carpet area (compared to wet construction).
The client wanted a turnkey solutions provider and Ramco SmartBuild fits the bill perfectly. Ramco SmartBuild's turnkey solution for dry walls and ceilings encompasses design, manufacture, supply, sourcing alternate materials, installation to handing over of the completed project.
Solution
Occura opted Ramco SmartBuild expertise for its project because this assured them of planned execution, valuable technical suggestions, certification and timely completion of the project.
The scope of work at Occura are dry wall partitions, ATP works, above glass partitions and ceilings. Ramco Hilux is used for all the applications in the project.
As a value addition, applicators were trained onsite for maintenance of the project and also to take up new projects elsewhere. Occura Ahmedabad is due for handover in April 2018.